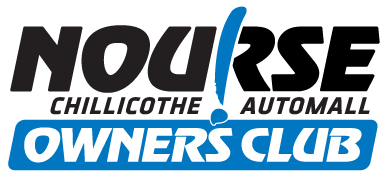 As part of the Nourse Chillicothe Automall Owners Club, members receive benefits listed along with exclusive sales, service and parts offers not available to the general public. This membership, valued at up to $3595, is a FREE value added peace-of-mind with every new and pre-owned vehicle purchased from Nourse Chillicothe Automall. These benefits are for you to use during the entire period of time you own your vehicle.
NOURSE PROVIDED WARRANTIES:
• Lifetime Warranty ($2495 Value)
All New Honda, Toyota, Ford, Lincoln, Nissan and Used Vehicles, 2 years or newer with less than 20,000 miles will receive the
 Nourse Exclusive Lifetime Warranty 
or as long as you own the vehicle or...
• Gold Assured Used Vehicle Protection ($495 Value)
Most Used Vehicles will receive a 60/Day/2000 Mile Mechanical Protection Package.
EVERYDAY DISCOUNTS:
• Discounted Oil Changes (Up To $85 Value Per Oil Change)
Your initial oil change is free on all vehicles sold at Nourse Chillicothe Automall. All other lube, oil and filter services performed by Nourse, will be at a deeply discounted rate. Your service visits will coincide with the manufacturer's recommended maintenance schedule.
• FREE Fill-Up (Up To $85 Value)
Prior to delivery, we will fill-up your tank, no matter how much fuel it holds.
• Rental Car Discount (Up To $25/Day Value)
Receive discounted rentals of in-stock rental vehicles. Reservations are suggested.
• 5 FREE Car Washes
No appointment necessary. Just stop by for your exterior car wash.
• 10% Discount on Parts and Accessories ($100 Value)
Every time you bring your vehicle to our Service Department, you will receive a 10% discount on over-the-counter parts and accessories for as long as you
own your vehicle from Nourse.
• FREE Shuttle Service
Bring your vehicle in for service and we'll take you home (within 25 miles) or to local shopping.
REPEAT OWNER DISCOUNTS:
• $250 Additional Trade-In Bonus
Receive an additional $250 purchase allowance, when you purchase your
next vehicle from Nourse Chillicothe Automall.
• $200 Owner Loyalty Bonus
Receive an additional $200 bonus on any subsequent vehicle purchases from Nourse Chillicothe Automall.
See one of our sales staff for complete details and information on how you can become part of the 
Nourse Chillicothe Automall Owners Club