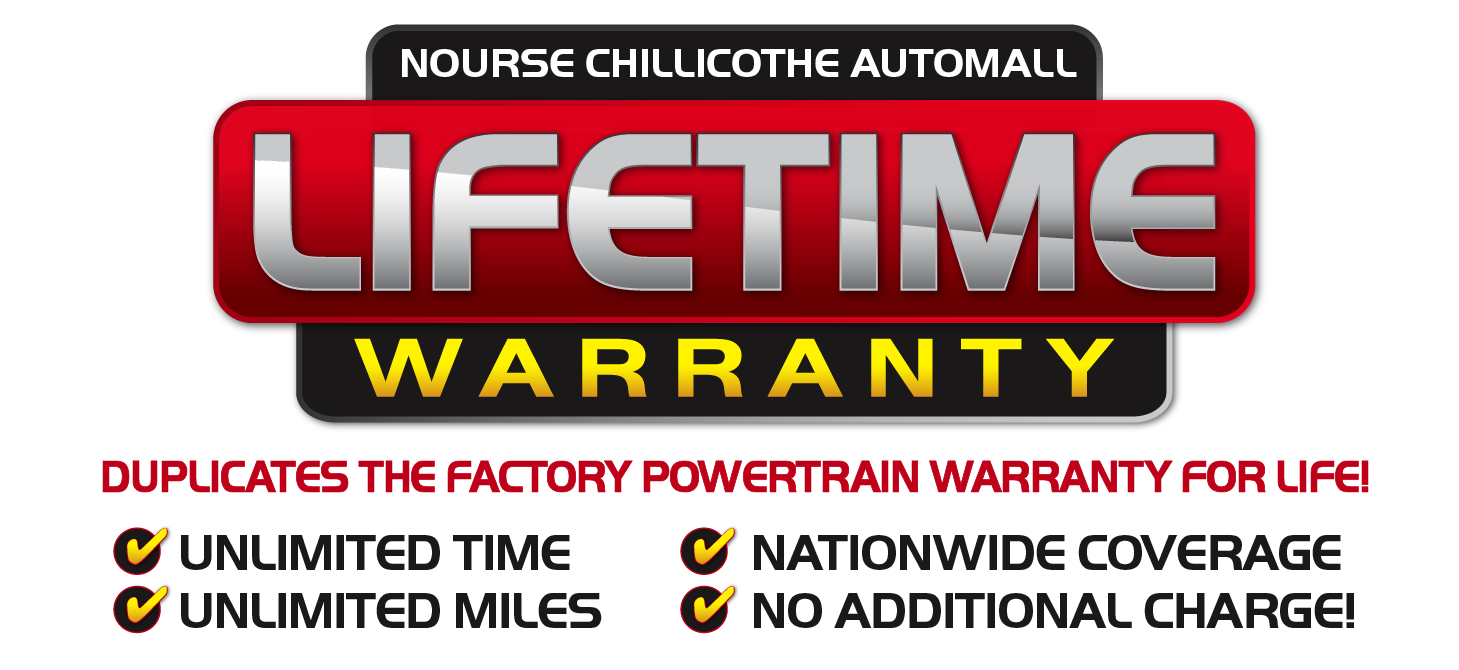 Who backs the Nourse Lifetime Warranty?
The Nourse Lifetime Warranty is backed by National Powertrain for Life LLC.
Which vehicles come with the Nourse Lifetime Warranty?
The Warranty applies to all new vehicles. It also applies to select pre-owned vehicles that are two calendar years old or newer with 20,000 odometer miles or less and have passed our Lifetime Warranty certification inspection.
How long is the Nourse Lifetime Warranty good for?
The Nourse Lifetime Warranty is valid for as long as you own the vehicle - for Unlimited Miles and Unlimited Time.

There is no additional cost. It comes standard with all qualifying vehicles meeting the criteria above and is included at no extra charge.
If you do have a qualifying claim, a $100.00 deductible will be charged at time of service.


Is any extra maintenance required to maintain the Nourse Lifetime Warranty?
No extra maintenance is required. You must simply follow the manufacturer's required maintenance as is outlined in your owner's manual.
Where am I covered by the Nourse Lifetime Warranty?
We recommend that all of your required vehicle maintenance be performed at the
Nourse Chillicothe Automall Service Centers
. However. If you are out-of-town and need service, licensed ASE repair facility in the United States or Canada can be utilized. For a claim to be processed, all maintenance and repair records must be presented.
Is the Nourse Lifetime Warranty transferable if I sell the vehicle?
No. The Lifetime Warranty stays with the original owner as long as they own the vehicle.
What's the catch?
There are no catches, hidden fees, or gimmicks. Our dealership provides this product as an added value to our customers for doing business with us. The only "catch"? You have to buy your vehicle from Nourse!
What's covered under the Nourse Lifetime Limited Warranty?
The following components that may be covered include:***
- Engine
- Transmission and Transaxle
- Front Wheel Drive System
- Rear Wheel Drive System
---
*See the Sales Management team for full details of coverage contained in the Nourse Lifetime Warranty Customer agreement document.
The Nourse Lifetime Warranty is backed by National Powertrain for Life LLC an affiliate of Nourse Chillicothe Automall. It is a not a factory warranty, a service contract and is not insurance. This document is a promotional piece and should not be considered a contract.
***Coverage is subject to limits and exclusions. See the Powertrain for Life customer agreement for specifics regarding, deductible charges, claims processing, specific component coverage and transferability.
Hours
Monday

10:00am-7:00pm

Tuesday

10:00am-7:00pm

Wednesday

10:00am-7:00pm

Thursday

10:00am-7:00pm

Friday

10:00am-6:00pm

Saturday

10:00am-6:00pm

Sunday

Closed